Remote work has become the norm. And before that, it represented an employment type many aspired to. And as it was expected, virtual screenings are also a thing nowadays. So, are there any universal tips for conducting successful remote interviews? 
Luckily for every interviewer out there – there are. Some great practices should be embraced and implemented into the interviewing process. There are some good ol' ways, structures, and methods that will be incorporated into these processes. But there's more to it. Find out how to nail a virtual interview and entice a prospective candidate on the other side of the screen. 
How Do You Nail a Remote Interview?
So, what is the remote interview process? The term itself is pretty self-explanatory – it refers to a job interview where the person representing the company and the candidate don't share the same physical space. The meeting is usually conducted through a voice call or a video conference. The entire process usually consists of several virtual screenings, and it might include some assignments that can also be done remotely. 
Now, how can you make it work? Whether you're the interviewer or the candidate, you must come prepared. And as for the interviewer's side, here's what to take into consideration:
If you

work from home

, make sure to choose the best spot for this meeting, and make your home-office look as professional as possible,

Get some high-quality equipment, and don't forget to test it before the call starts,

Show up on time and don't skip any important information that will put your candidate into perspective regarding your company, its aims, and

hiring needs

,

Read the resume, take a once over the candidate's LinkedIn page, and memorize their experience, so that you can easily maintain eye contact and carry on the conversation without scrolling and looking down

Prepare a set of questions

but don't be afraid to change the course if needed. Although structured interviews are always favorable, it's best to let the conversation flow naturally.
Once you cover these basics, the rest will run smoothly and effortlessly. In the meantime, stick to your own routines and little rituals that will keep you fresh, relaxed, and up for a productive virtual meeting. 
Boost the Professionalism: Prepare the Physical Space Around You
First of all, the spot you choose for this occasion must be distraction-free, that is – as much as possible. If you have kids, pets, or noisy neighbors, pick a room where none of them will bother you. 
And then, before turning the webcam on, tidy up your surroundings. Surely, remote workers often set up a home office. But then again, all of that flexibility sometimes allows us to enjoy some creative clutter. Take care of it so you'll look like a true pro, and the space around you will just confirm it. 
Your home office doesn't need to take up an entire room. You can simply pick a nice corner and make it cozy, motivating, and inspiring.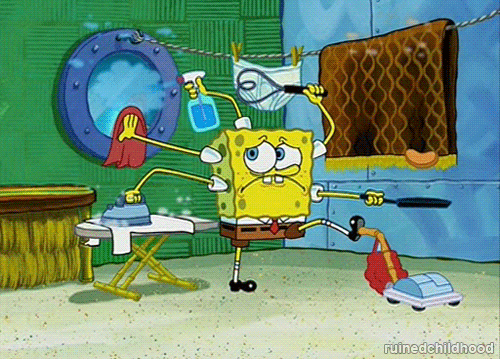 Get the Right Tools and Quality Equipment
The company you work for should provide you with high-quality equipment. And if you're a freelance recruiter (or a tech person who took charge of interviewing developers as a side gig), then you're on your own. It is up to you to purchase suitable equipment and select the right tools. If you think Skype is a good fit for you, reevaluate your choices. 
There is a multitude of collaborative tools you can use when working (and interviewing) remotely. Aside from Slack, Zoom, Whereby, Discord, and other similar platforms, explore some tools that will help you store information and share it with your team or clients. 
Test Your Equipment: Check Your Cam and Microphone Before the Interview
Testing your cam and mic should also be a normal part of the interviewer's routine. After all, no matter how good your gizmo is, you never know whether it has chosen this very day to let you down. And then, you will be like Ring, ring, are you there? – which is so 2018. 
If anything feels off, make some adjustments. Ensure that you won't scare away the candidates due to a technicality. While at it, double-check whether your chair is going to make some noises and how your surroundings will sound in general. These actionable tips for conducting successful remote interviews will only improve the impact you are about to make. 
Punctuality Says a Lot: Show up on Time 
This one should undoubtedly go without saying, but being on time is paramount. It helps you show respect for the candidates and their schedules. And now that you're conducting an online screening, it's kind of difficult to make up a valid excuse. Being stuck in a traffic jam on your way to the fridge sounds like Pixar's plot, but it's not a plausible explanation for being late.
Know that you have mastered the concept of time – how long do remote interviews last? In most cases, these calls last about 30 to 45 minutes. Be sure to let the candidates know about the precise duration so that they can plan it rightly and fit it into their agenda. That is another way of showing appreciation. 
Don't Skip the Intro: Let the Candidate Understand Your Company During a Remote Interview
What kind of impression would you aim to leave? How will you build a firm bond with an applicant or passive talent? Aside from social media recruitment strategies, which are a huge chunk of your sourcing efforts and employer branding, you must have a way with words. Start with a brief introduction that will entice the interviewed candidate. It's like a properly structured and personalized recruiter's text – it grabs their attention. Although recruiters often send out unsolicited offers, their ways of putting things together can take them to the desired outcome. And now that you already have an opportunity to present your team and its aims in the best possible light, it's even easier to do so. Don't get this wrong – stay truthful and don't fabricate awesomeness to allure a potential employee. Be honest by all means – with a dash of your firm's uniqueness. 
Like all other parts of hiring processes, even the intro can be quite personalized. Sure, the assignments and projects are the same for every interviewee. However, what you'll focus on, and which segments you will highlight depend on your understanding of candidates' goals, ambitions, and interests. Find out more about them by exploring their previous workplaces, take a peek at the content they liked and shared, and feel their pulse. 
This fundamental part of getting to know each other should cover your company's size, location, ongoing projects, and their duration, tools, technologies, environment, business practices, and values. But keep it short and sweet cause you will have time to go into details later. 
Get Ready and Learn Your Facts
In case you didn't take the helpful tip from the previous paragraph seriously, let's repeat (and expand) it: You must do your homework. All successful sourcing strategies commence with doing some research. And when you've scheduled a virtual interview with a candidate, the exploration part of your job is still on. 
Strive to soak up all the relevant information about the person you're about to talk to. If that means reviewing their CV several times, then so be it. After all, stats said it – it only takes about 6 seconds for an HR to fulfill this task. 
However, for the most fluent and pleasant convo, you can go the extra mile. Not in a creepy stalker way. But you can take a glance at the person's LinkedIn, for instance. If they have other social media profiles, check them out as well. Again, not in a manner that would depict toxic infatuation showcased by Netflix. Keep it professional. Focus on career-related stuff and some publicly shared hobbies. 
Maintain Eye Contact During the Video Call
Since you have managed to read carefully and understand the info from the resume, and you have memorized the basic structure of your interview – keeping eye contact will be a piece of cake. 
However, there's another tricky bit to overcome when there's a remote interview involved. Your eyes can unknowingly aim for their own patterns – a notification might pop up, or there could be someone in the background, walking cluelessly of the screening that's going on. Don't let these occurrences distract you. Fighting basic human nature is hard, but that's what interviewers must do in some scenarios. 
Pro tip: Tape something right under the webcam, so you will always have a reminder of where to look. 
Ask the Right Questions
The questions you will ask depend on several factors:
Your priorities (that are aligned with the company's needs, goals, and targets),

The role-specific information and responsibilities,

Candidate's resume, experience, and background,

The way you have started to communicate (whether they have applied through a website, career page, or some other way, or they were recruited).
Indeed, there's more, but these are the basics you shouldn't neglect when coming up with an interview structure. Make every question clear and precise. Avoid being suggestive and pointing out an answer. Let the conversation flow freely, but stay focused on the parts that can't be skipped. 

Practice Active Listening and Pay Close Attention to Each Answer
How does a virtual interview work? It's not that different from those conducted in offices. However, active listening might pose more of a challenge than before. We already spoke of the distractions. But that's not all. 
More than 70% of every interaction surpasses the verbal part. Gestures and mimics also say a lot about a person. And it goes both ways. That is why you should keep your directions smooth while keeping an eye on the candidate's expressions. To get the right answer, you will need to ask the right questions. But more importantly, you will have to actively look while actively listening.
Bonus Tips to Keep in Mind
Although these helpful tips for conducting successful remote interviews should unquestionably be put to use – and they will drive results, it is crucial that you keep a few other points in mind: 
Develop a strategy that works and stick with it,

Review the old ways and enhance them,

Don't forget to include the rest of your team and keep them posted,

If you work directly for the client, inform them of each step, impression, and relevant insight,

Use tech tools that will keep everyone involved in the hiring process aligned,

Adjust your tone of voice and approach to match your personal style, company's tone, and to make the candidate feel comfortable,

Ensure that the screening doesn't seem interrogatory – it should be stress-free and definitely a two-way conversation. 
Lastly, having a plan B is always the best option. Although we all love technology and trust it beyond any reasonable doubt (like we never watched a SciFi movie before), it is paramount that you have a spare solution in case everything goes wrong. Trust us on this – your WiFi doesn't only fail when you're binge-watching your favorite show. And that is why you should have a candidate's phone number, just in case you need to make a switch.
Use These Proven Tips for Conducting Successful Remote Interviews
Managing the interviewing process rightly will help you enhance the candidate experience. It will ease your recruitment struggles and enable your team to grow. Moreover, it will allow you to foster diversity and have a successful, heterogeneous squad that works towards mutual goals. 
Following these simple tips for conducting successful remote interviews will refine all aspects of your hiring process. 
And if you need additional help with hiring developers and other tech specialists, check out why referrals are the best way to find talent.